*Because of the substantial amount of work on our latest project 'Love Around the World' and the publishing of the book of the same name, we will not be offering 'Couch lectures' until Spring. To express your interest in future lectures, please write to us HERE.
WHAT ARE 'COUCH LECTURES'?
'Couch lectures' are custom made lectures for small groups of people (10-20), through which Davor Rostuhar will share some of the most important lessons he learned on his travels and through his projects.
WHAT DO 'COUCH LECTURES' LOOK LIKE?
Through the art of storytelling, and showing photographs and videos, Davor will share his knowledge and experience, gathered while travelling the world over twenty years. There are several topics from you can choose two or three, or you can request anything else from his repertoir. The form of the lectures is relaxed, interactive, and sometimes develops into a lively constructive discussion.
WHAT ARE THE TOPICS?
Davor offers you to choose two or three topics, each lasting about 20 to 30 minutes.
'Love Around the World – exclusive insight into the project and its creation
'10 most important lessons I learned while travelling'
'Motivational lecture: Polar dream'
'How to choose a destination and prepare for a trip'
'Intro to travel photography'
'Jungle – stories from Papua, about the last total wilderness'
Davor will also gladly present other topics from his repertoir. He can talk about any of his journeys or expeditions. If you are getting ready to visit any place where he has been (117 countries so far!), he can tell you about that destination. If you are preparing a crowdfunding campaign or looking for sponsors for your project, he can share what he has learned about those.
Many informative, inspirational, educational, and fun moments can be fit into two or three hours!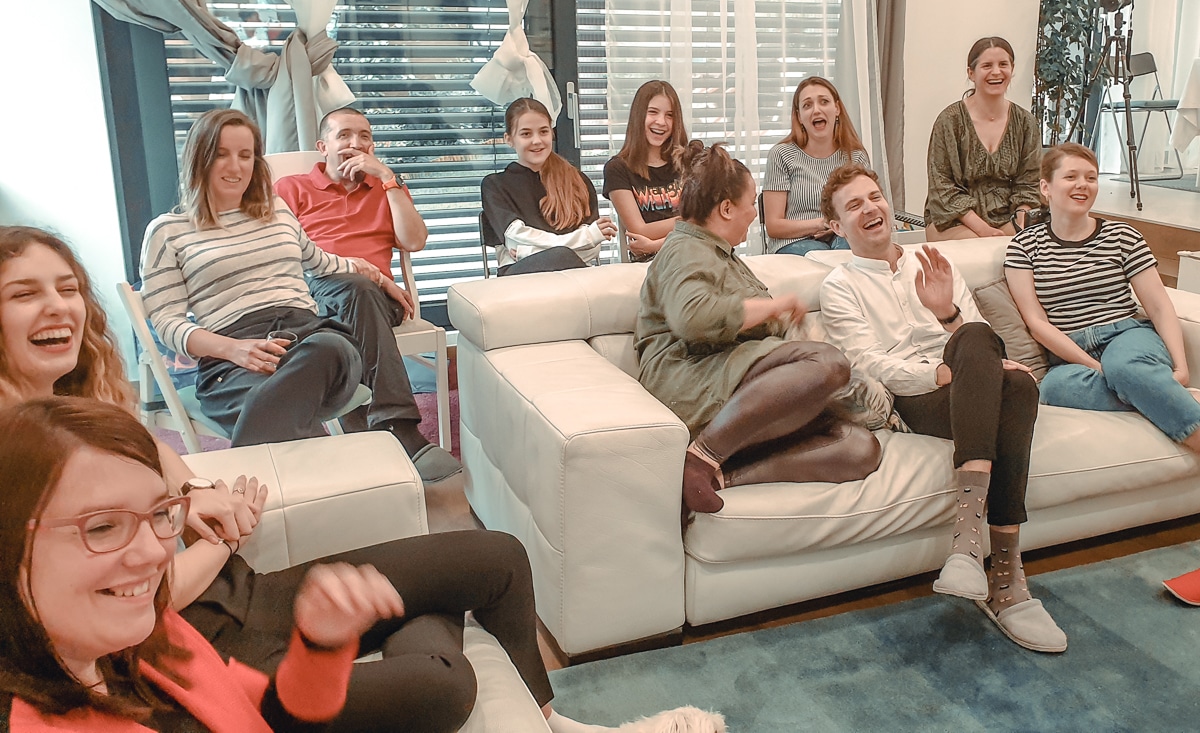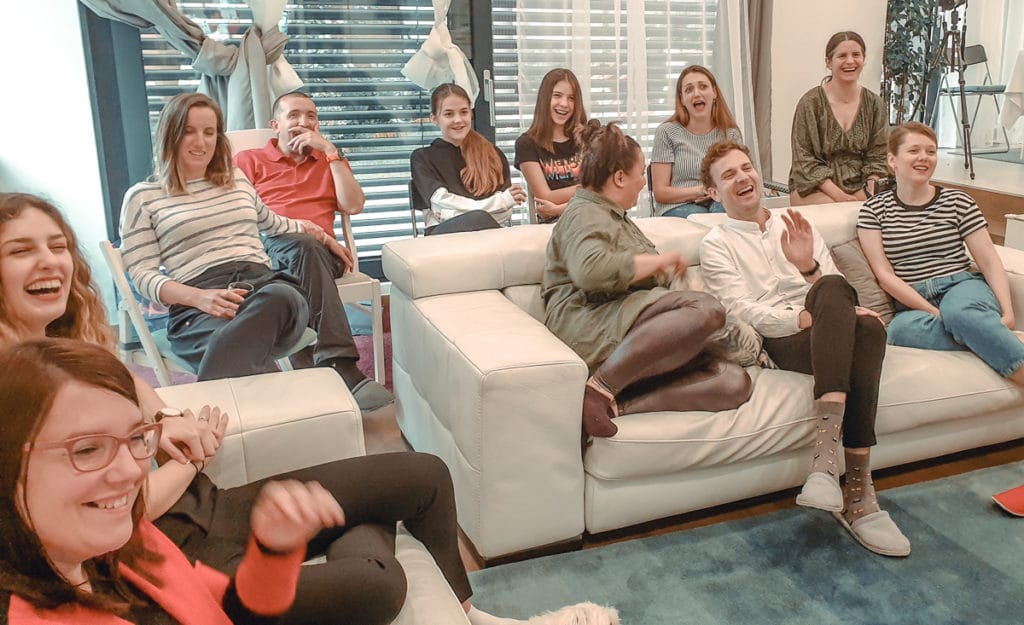 HOW TO ORGANIZE A LECTURE AND WHAT ARE TECHNICAL CONDITIONS NEEDED?
If you want to organize a 'Couch lecture', all you need to do is gather your crew, contact our Valerija (contact) who handles all the logistics, and set up a date. You only need to have a space in which a minimum of ten people can gather. If you have a projector, a smart TV, or a computer monitor, it will come in handy, if not, Davor will bring his own monitor.
If you want to organize a 'Couch lecture', but do not have an adequate space – let us know and we will try to figure something out.
If you want to participate in a 'Couch lecture', but cannot gather ten people, let us know individually or with the friends you managed to gather, and we will connect you with others in similar situation to organize one lecture collectively.
3 TYPES OF LECTURES – PRIVATE, FOR INSTITUTIONS, FOR BUSINESSES
The main idea behind 'Couch lectures' is a comfortable gathering in a homey atmosphere for small groups of people (10-20). Due to many inquiries by institutions and business, we are open to organize something for them as well, as long as it stays "closed" – not open for public and not counting more than twenty people.
INQUIRIES AND ADDITIONAL QUESTIONS
For al questions and inquiries, please contact Valeria (contact)!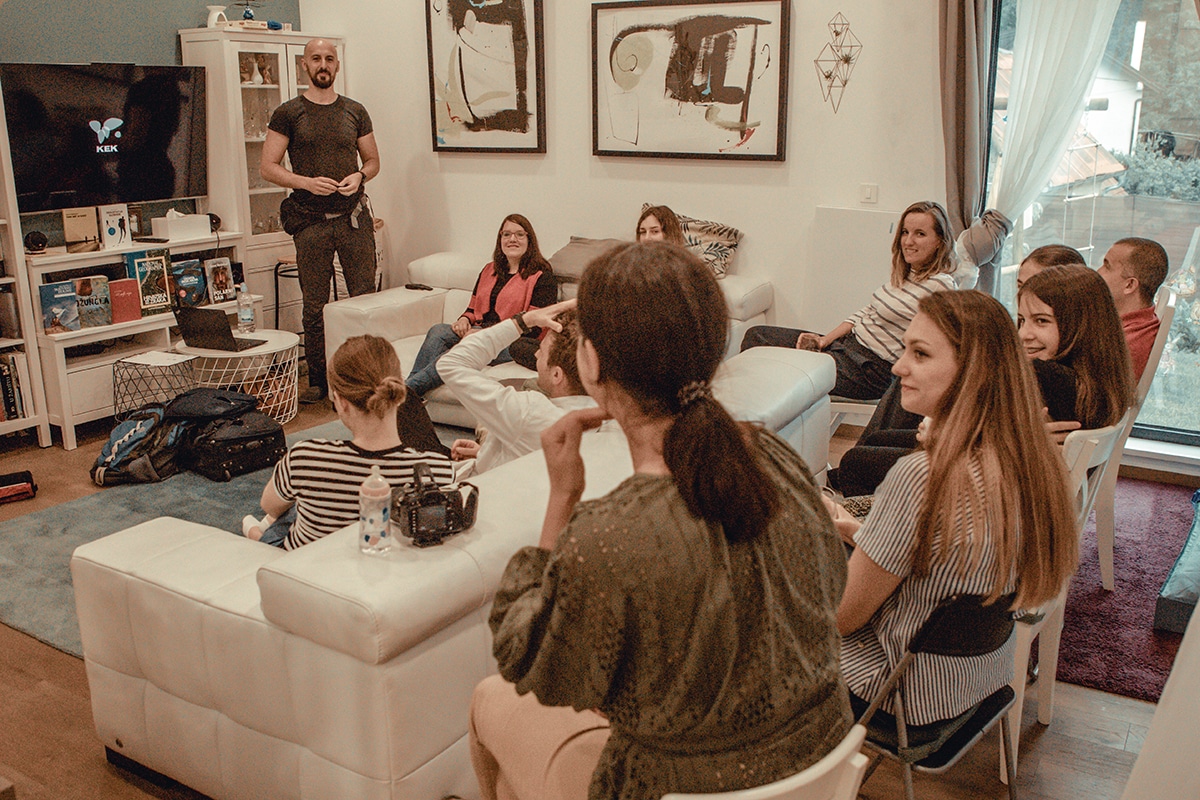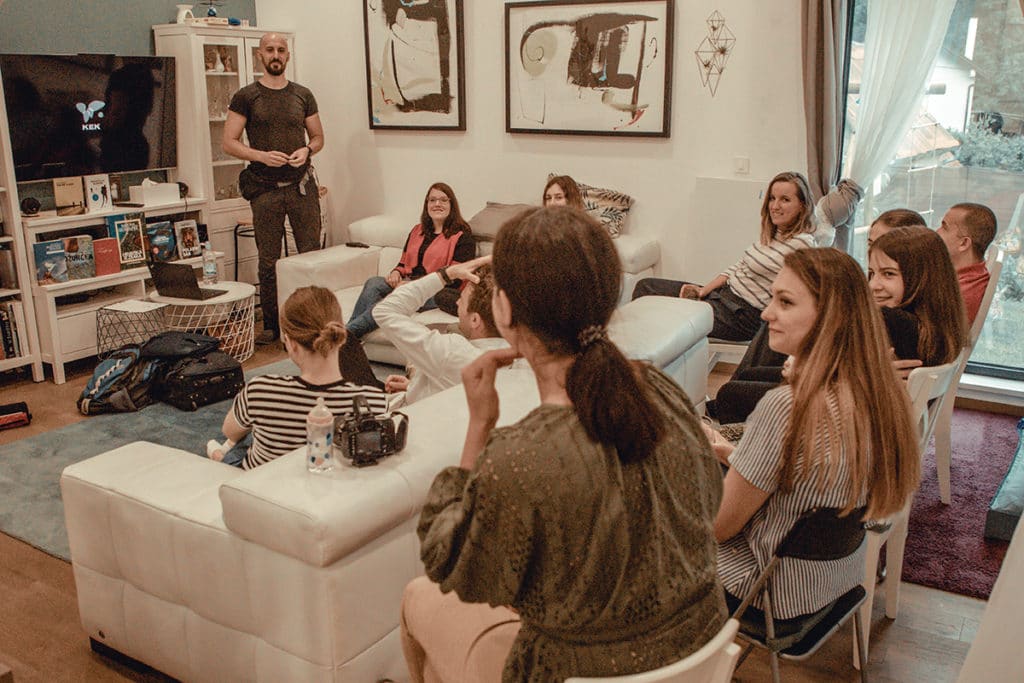 REVIEWS
"Davor delights with his positivity and after several months of standing still, after hangout-lecture-intro to 'Love Around the World', I have finally felt alive again. It is incredible how spending time with someone as enthusiastic as Davor can be so healing. I hope that a lot of people will get to experience this amazing way of becoming familiar with distant cultures and destinations, and all from the comfort of a big city. It is an honor to be present at this historical, first 'Couch lecture' and at least a little bit contributed to the realization of the project 'Love Around the World.'"
Romana Palčić, June 6th, 2020
"It is an honor and a pleasure to have the opportunity to connect my small circle of great friends with warm, open, spontaneous, funny, and incredibly inspiring Davor, in the relaxed and comfortable of my home. It was a wonderful gathering and a perfect gift for my birthday. Davor, it is such a pleasure following you and reading your stories. I love your energy and the incredible passion for everything you do, and the exceptional pleasure with which you share your knowledge and experience. I wish you all the best and to successfully continue with the project 'Love Around the World' to which we all look forward very much!"
Sanja Pekas, June 10th, 2020
Due to the scope of the project 'Love Around the Wold' and the publishing of the book of the same name, 'Couch lectures' are on hold until Spring 2021.